Your Full Day & Overnight Wedding (The Sunlight)
Upfront pricing and package info below
The Sunlight package includes:
✔️ Venue access from 11AM to 11PM with onsite lodging
✔️ Lodging night of from 12PM to 10AM
✔️ Horseshoes, corn hole, mini bowling, mini putting green, tree swing, and Tiny Town (toddler play area)
✔️ Cedar pavilion covered dance floor
✔️ The Loft and The Den – dressing areas
✔️ Multiple photo ops
✔️ Climate-controlled ballroom with chandeliers and a full kitchen
✔️ Open ceremony area with wooden doors and walkway
✔️ Open Air Chapel – enclosed ceremony area
✔️ Decor
SATURDAY $4,800 • SUN-FRI: $4,000
INCLUDES EVENT CLEANUP, ESCORTED PHOTO OP, CAMPFIRE, GOLF CART SHUTTLING, THE CORRAL, CLOSING ASSISTANCE, AND THE 2-HOUR PLANNING SESSION.
Venue Access Only From 11AM to 11PM: Saturday $4,000 • Sun-Fri: $3,200
Does not include the above options
Venue Access & Lodging
You and your guests will enjoy exclusive access to the entire venue from 11AM – 11PM. Your overnight lodging is available from 12PM – 10AM (day after).
Petting Zoo & Corral
We'll bring out miniature horses and zebra (Zoey) to the corral near your reception area. You will get to feed, pet, and take pictures for an hour.
Planning Assistance, Rentals & Decor
This scheduled meeting is 2 hours to discuss your day, timeline, and logistics and includes venue layout map, event form, a customized ceremony lineup, and timeline. From lace to table runners and benches, we have lots of rental & decor items onsite to save you time and money.
Golf Cart Shuttling
We shuttle your guests & bridal party to the ceremony area. Then we discreetly shuttle the bride with her escort.
Escorted Photo Opportunities
We'll escort both of you along with your photographer to the other side of the property to take gorgeous photos at our swing, deck, corral, pond, dock, and more. You can read about all our services on our rental brochure for more understanding.
Campfire
Cozy up by the fire for a romantic ambiance; we provide the wood and light the fire for you.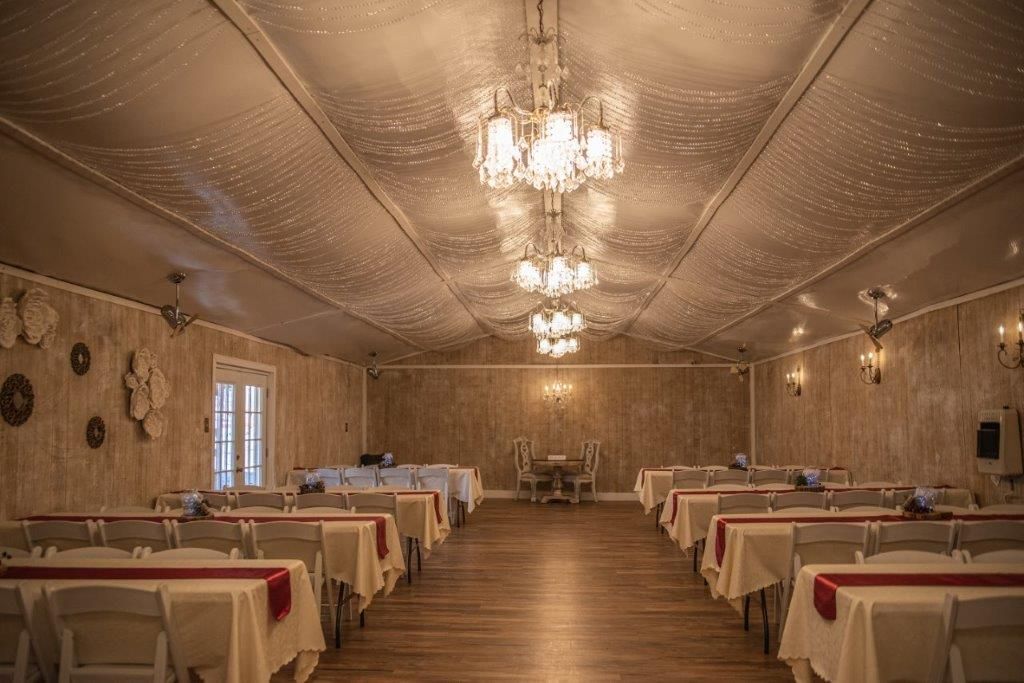 Closing Assistance & Event Cleanup
No work on your wedding day! Staff for 2 hours will clear tables, take down decorations, load your items, return items to the marketplace, and more. We also take care of the bathrooms, sweeping, mopping, wiping tables, and putting all the tables and chairs back where they belong.
All packages include these indoor/outdoor areas:
Our Signature Red Barn
Wooden deck
Couples table
Picnic tables
Wooden tables
Folding tables
Chairs for up to 150 guests
Indoor Ballroom
Seats up to 150 guests 

Chandeliers

Heating

Air conditioning

Couples table

Tablecloths

Bluetooth speaker

Full kitchen
Open Ceremony Area
White arbor

Brown wooden doors

Wooden walkway

White benches

Bluetooth speaker
"Open Air" Chapel
Covered ceremony area

Open on 3-sides

12 antique church pews
The Loft and Den
Our upstairs loft features a 3 room dressing area
The Den has a small additional dressing area
Outdoor Games Area
Horseshoes
Corn hole
Mini bowling
Mini putting green
Tree swing
Tiny Town (toddler play area)
Sunlight Full-Day & Overnight Package
The package also includes:
✔️ Indoor ballroom includes tablecloths, BT speaker, couples table
✔️ Open ceremony area includes a white arbor, white benches, and BT speaker
✔️ 12 antique church pews in Open Air Chapel
✔️ 4 bathrooms